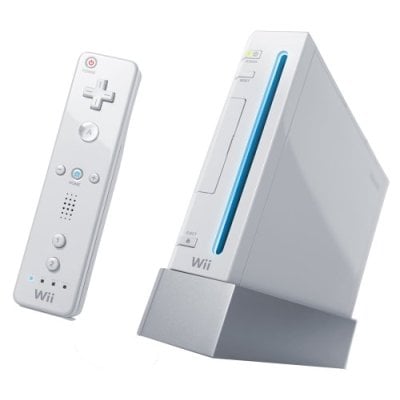 Ok, so I know everyone religiously follows the coming of a new gaming system. I've found that since about the Super Nintendo, that I'm not too concerned with new systems. Pretty much they have to come to me and impress me with some feature or another. Playstation has held my gaze for a couple generations, but I think Nintendo really has my eye again.
Enter the Nintendo Wii. The major feature of note on this system is a pair of controllers that dectect spatial movement of the unit. Thus instead of tapping left-left-A or some button combination to perform a task, say swing a bat, you mime performing the action, ie swinging your arms through the air.
I think this is just freaking awesome. For the past I don't know how many system generations, there has been virtually no advancement or acceptance of new input control methods. There was the gamepad, the joystick and the keyboard. Oh sure there were novelty controllers, gloves, guns, guitars, pads, steering wheels, skateboards. But none of them worked as universally as the old standard button and joystick gamepad. Infact even into the current generation Sony and Microsoft have chosen to retain their dinosaurs.
Ninetendo has moved into the future. But I think there's a danger. Standard gaming systems are easily played in the sitting or even lying position. The need to move is almost eliminated in these games. Thus when someone plays too much, there is some sort of negative reaction - you get fat and full of diabetes. But with the Wii, people will be moving, exercising, you'll be able to play more with less reprecussions. I'm just afraid we're gonna end up with a generation of game addicted kids because their parents don't see a problem with their children. Kids are going to lose their true sense of discovery where there is illness and pain to punish their mistakes, not a Game Over page. Games are immersive enough without further physical involvement. Combine this technology with an updated version of the flop Virtual Nintendo, and we're starting to see the beginning of The Matrix... hell pop a VR helmet on my head, some good controllers in my hand, plug me into a food source and throw me into Second Life and I've started a new life. This technology exists today, it's only a matter of time before someone thinks to combine them.
Mark my words, you'll see it in the paper before 2008.